2012 has been a big year for bold hair styles and colours as more people start to experiment to find a look which suits them. So as we draw closer to the end of the year, let's take a look back on some of the trendiest hair colours that came around this year.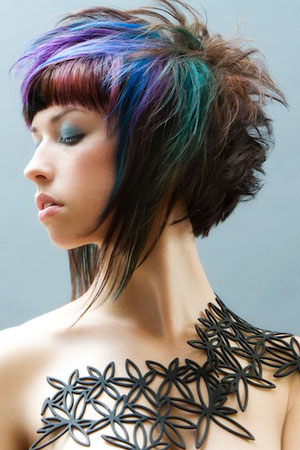 Dip Dye
One of the most noticeable hair colour trends from 2012 has been the dip dye and many people seemed to jump on this trend. A fashion not just for teenagers, the dip dye can be seen on women and men of all ages. Dip dying is a method of leaving your hair with a natural colour, whilst having a complimenting, or even outrageous colour to the ends of the hair – making it look like it has been dipped in the colour.
Ombré Hair Colour
This hair colour is a great option for those with brunette hair as adding the extra colour can bring some life to the hair. Ombré hair colour means that the hair gradually changes from light to dark, giving the hair size and volume. Many celebrities opted for this hair style in 2012 and it could be staying for 2013.
Balayage
This trend had been popular for a long time, mainly because of how low maintenance it is. Balayage is a French technique developed in the 70's and is a freehand technique rather than using foil or a cap. Many different effects can be achieved from using this technique ranging from natural highlights to a strong punky colour.
Bright Colours
There have been many celebs in 2012 that dyed their hair a bright colour, whether it be streaks, washes or full hair dye the bright hair colour has definitely been a statement this year. Celebrities like Nicki Minaj and Rihanna have opted for bright strong colours to go against the norm and show how different they are. Bright colours can be applied to almost any hair colour so many people opt for bright streaks to add a bit of fun to their hair.
Platinum Blonde
Many people have been dying their hair platinum blondes in 2012 leaving the hair a shiny, almost white colour which can suit almost anyone with a few added lowlights or neon colours. Ellie Golding uses pink to accentuate her platinum blonde hair to give it a bit more feeling.
People with pale faces and brown hair can consider blonde highlights or an ombré style dye for a sun kissed look, dark shades of brown can make a person look paler so adding a bit of blonde to the hair will add life and definition to the hair. For those with blonde hair, you can consider adding a bright colour to it if you feel brave enough to add some fun to your hair.
Home colour kits are very prevalent these days and it can be a lot cheaper and easier than getting it done at a salon. Many people often prefer to dye their hair themselves, believing that they will do a better job as they know exactly how they want their hair. In any case, please be aware of the dangers of the use of PPD (paraphenylenediamine) in hair dyes as they can cause allergic reactions and the results of this can be very unsightly. Greg Almond, from Almond Solicitors, warns that the UK could soon see an epidemic of sensitisation to the chemical because of exposure. He has started a campaign supported by MP's Tony Lloyd, David Nuttall and Ivan Lewis, to regulate use of PPD in hair dye. Please read through these helpful articles if you ever experience allergies to PPD to find out what to do next.
This post was written by Brad Warmbold, who is currently working as a content writer for Kudos Web Design

7500 total views, 2 today

Print This Post