Moms these days are busier than ever. Whether you fall into the category of working mom, work-at-home mom, or stay-at-home mom, you're always on the go, and chances are you could do with a little more sleep, too! While you're probably more concerned these days with how your little ones look than how you look, putting your best foot forward when it comes to style and fashion can help you feel better about yourself every day. These seven style tips will keep you looking your best without costing you a fortune!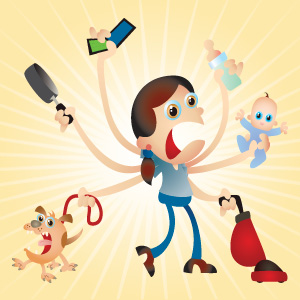 Maximize Your Best Features
When you don't have enough time to focus on everything, it's best to just maximize your best features. Accentuate gorgeous baby blues with eyeliner and mascara, or highlight your pretty lips with a lipstick that really pops. You can also highlight your favorite characteristics with the right outfit. A big belt plays up a tiny waist, for instance. The key is to figure out what your best features are and how to draw attention to them so that your less favored features are less noticeable.
Get Into a Makeup Routine
Before you had kids, you could probably afford enough time to carefully choose different colors of eye shadow and lipstick every day, but now you can barely find time to choose a decent outfit, let alone your makeup! So instead of worrying about it, get into a routine with your makeup. Choose colors that look natural and coordinate with whatever you wear, and wear the same things pretty much every day to minimize preparation time. Save the wild or smoky colors for your hot date night on the weekends!
Invest in Good Jeans
As a mom, you probably end up in jeans a lot of the time. They're comfortable, and they go with everything. Plus, they can stand up to lots of wear and tear, which makes jeans a mom go-to essential. But you shouldn't wear cheap, ill-fitting jeans, since a pair that is comfortable and fits well can go a long way to make any basic outfit look nicer. Jeans are definitely one area where moms should splurge, and spending extra on a few long-lasting pairs that really fit will boost your self-esteem and help you save money in the long run, since you won't have to replace your jeans as often.
Stick to the Basics
In the world of fashion, things change so quickly that a busy mom may not have time to keep up with moving trends. Instead of trying to be trendy, though, go for classic and basic clothes most of the time. Bulk up your wardrobe with things like white button-down shirts, high-quality plain-colored tee shirts, neutral cardigans that fit you well, and a great denim or leather jacket to go over everything. Fashion basics in fairly neutral colors make it easier to throw together an outfit in the morning. You can always add in a couple of trendy pieces each season for a bit of pop, too.
Accessorize
Of course, if you're going with the basics for your wardrobe mainstays, you need to have some color and up-to-date style somewhere. The best place for that is with your accessories. Invest in a couple of great bags and some killer shoes, and don't forget about jewelry that makes a statement – like big bracelets, long, chunky necklaces, or hoop earrings. Accessories can make the most basic outfit look both more put-together and more stylish.
Choose Your Best Hair Style
The key to a great hair style is one that sets off your best facial features and that is easy for you to style on your own. You might have to experiment to figure out what the best hair style for you is, but once you find it, stick to that style for the most part. It can be tempting to shake things up a bit, but you can always do that with color or highlights. Finding the perfect hair style and sticking with it can make getting yourself together each day so much easier. Not sure what style would work best for your features and time constraints? Talk to an expert stylist for some ideas!
Learn How to Splurge
Many busy moms have trouble splurging on themselves because they're so worried about providing for their families. It's okay to splurge on yourself once in a while, though! One great way to do it without feeling guilty is to use your credit card rewards for a spa day or even a simple manicure and pedicure. Daniela Baker from CreditDonkey says, many credit cards offer reward points that can be used towards experiences like these. If not, then use your credit card's cash-back option or use points to get a Visa gift card, and then splurge on some beauty and fashion essentials for yourself.
Following these seven tips will make it easier for you to look and feel your best every day, even if you're constantly in a hurry and are running on next to no sleep! Plus by looking your best every day, you'll teach your kids to appreciate themselves and to look and do their best, too.

7641 total views, 1 today

Print This Post