Listings tagged with 'straight' (7)
Long straight virgin red hair. Very healthy, conditioned bi weekly. I also take vitamins and biotin. Hair has not been used with heated tools.
107 total views, 3 today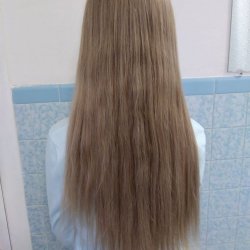 Sandy blonde, straight, virgin hair, 11 inches
143 total views, 4 today
*Hair like this should sell for $400 I am willing to sell it for up to $250 by Saturday morning (Aug 11) Saturday is the deadline.* 15-year-old male has never ...
314 total views, 8 today
I'm selling straight dark brown hair. I only wash about 2x a week with sulfate free shampoo and conditioner. I don't use straighteners/curling irons or any othe...
260 total views, 2 today
13 inches of virgin hair has never been treated. Non-Smoking, No Chemicals, Salon quality shampoo every 5-7 days, Salon quality conditioner.
102 total views, 4 today
Straight with slightest wave, Auburn with touches of natural blonde highlights. My hair is fine, thick, and strong. Never dyed or heat treated, all natural, vir...
132 total views, 2 today
17-18 inches of already professionally cut hair available. Hair is a lighter red color with natural highlights (pictures have not been altered in any way), st...
193 total views, 4 today
Check Out Our Intro Video:
From the Blog
There are several lucrative ways in which you can sell your body for money without resorting to prostitution and asides from selling your hair! We'll take you t...

As the largest human hair marketplace we've seen thousands of hair sales and have had the pleasure of dealing with buyers and sellers all around the world.U...

We've recently had a number of queries on whether competitor website SellHairStore.com has closed down. Unfortunately, a number of buyers paid to list on the si...