Listings tagged with 'brown virgin hair' (8)
16 inches of long, silky, virgin, dark brown hair. Separated into four braids. Naturally wavy. Rarely ever treated with heat. Never dyed nor bleached. Washed ev...
112 total views, 3 today
-Hair from a 17 year old. -Never used heating appliances or dyed, well cared for. Trimmed regularly to avoid split ends -I'm multi-ethnic, including Native A...
127 total views, 0 today
Over 17 inches of straight virgin brunette hair. Hair has been given regular coconut oil treatments. Minimal washing and styling. I eat a good diet, take vitami...
195 total views, 0 today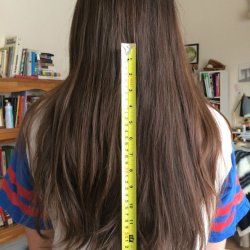 14" of tonally rich chestnut brown hair, soft and silky, never dyed, rarely heat styled, washed and conditioned every 2-3 days, occasional oil treatment.Wil...
243 total views, 0 today
Will sell 16+ inches of wavy dark brown hair, 4 inches thick. Hair has never been chemically treated or blown dry and is washed and conditioned every other day...
125 total views, 0 today
Beautiful Dark Brown Hair! Shiny, Thick, Silky!I have always treated my hair as a significant part of my appearance and treated it with the utmost care. My...
267 total views, 0 today
21" long, 3 3/4" around the ponytail. Naturally straight, Dark Brown, healthy, 100% virgin hair. Never colored, permed, straighten, or curled; only blow dried...
356 total views, 1 today
Well Cared For Straight Light to Medium Brown About 4 Inches Thick Total Cut Professionally Total of 4 Ponytails Never Been Colored Never Been Curled/Per...
391 total views, 0 today
Check Out Our Intro Video:
From the Blog
There are several lucrative ways in which you can sell your body for money without resorting to prostitution and asides from selling your hair! We'll take you t...

As the largest human hair marketplace we've seen thousands of hair sales and have had the pleasure of dealing with buyers and sellers all around the world.U...

We've recently had a number of queries on whether competitor website SellHairStore.com has closed down. Unfortunately, a number of buyers paid to list on the si...